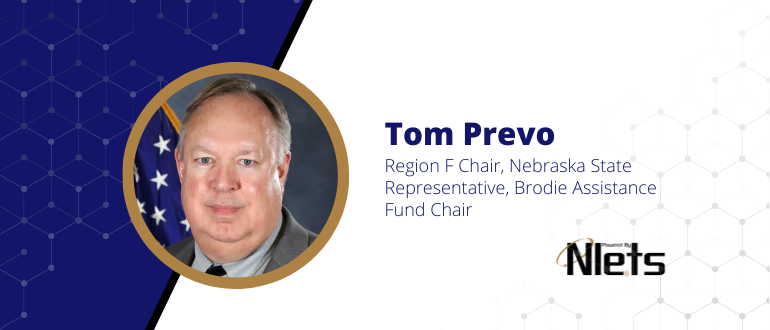 Region F Chair Spotlight - Tom Prevo
September 30, 2021
Welcome to the third edition of the Nlets Representative Spotlight, where we highlight the incredible work that Nlets representatives are doing.
Today, meet Tom Prevo of the Nebraska State Patrol. He represents over 130 criminal justice agencies and their users in Nebraska. He has been the Nebraska Nlets Representative since 2009 and a civilian employee with the Nebraska State Patrol for 44 years.
Q: If you had to describe your role as an Nlets Representative in one sentence (or a brief description), what would you say?   
A: My role is to ensure that our users understand and utilize the capabilities of Nlets to the fullest extent.  It's so much more than vehicle registrations and driver's license inquiries!
Q: What has been the most impactful experience you've had working with Nlets?
A: I've made so many lasting friendships with my Nlets peers over the years.  As a new Representative many years ago, it was very comforting to know that other Reps would step up to help.  Now, I'm able to offer my help to those new Representatives.      
Q: Can you share one success story where Nlets was used in your state/agency?  
A: Just one? Our most recent success story involved the apprehension of a suspect in a homicide here in Lincoln.  Once police identified the suspect, his information was entered into the NCIC wanted person file.  Little did anyone know, and clearly out of the blue just 3 days later, the police here received an Nlets YQ hit confirmation request from Jacksonville Beach PD in Florida.  The police in Jacksonville Beach pulled over a vehicle for a seat belt violation, and the homicide suspect was a passenger in that car!  No intel indicated that the suspect was in Florida.  The immediate receipt of the YQ and the timely YR response was instrumental in the apprehension of the suspect. 
Q: What is one word you would use to describe Nlets? Why?  
A: Essential. Nlets, for many of our users, runs quietly and efficiently in the background, so much so that terminal operators aren't even aware of what's occurring.  They just know that when they need information, Nlets is always there for them, even if they couldn't articulate how the magic occurs!