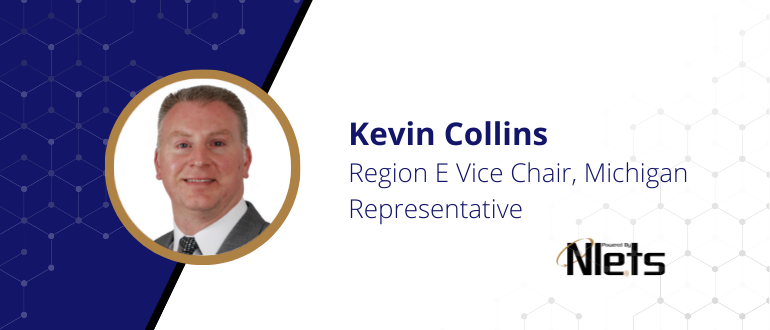 Region E Vice Chair Spotlight - Kevin Collins
November 3, 2022
Welcome to the 17th edition of the Nlets Representative Spotlight, where we highlight the incredible work that Nlets Representatives are doing.
Today, meet Kevin Collins, Manager of the Field Support Section at the Michigan State Police and the Nlets Region E Vice Chair. Collins has been an Nlets Representative since March 2020.
As part of his day-to-day work, he provides oversight for their state message switch, firearms registration, and concealed pistol license program areas.
Q. How Would You Describe Your Role as an Nlets Representative to Someone Who Did Not Know What It Involves?
A. Being an Nlets Representative is all what you make it.  Obviously, as a rep, I'm representing my state, my agency, and the Nlets users of my state, but I'm also a "shareholder," so to speak, of Nlets. I have to balance the interests of my state, my agency, and our users with the best interests of Nlets. At first, my role was minimal: Attend the Annual Business Meeting and make sure Nlets message keys and initiatives are implemented in my state. The fact that I became a member just before the COVID shutdowns didn't help me get to know much else or the other Reps, as attending Nlets functions was difficult. However, in 2021 I was asked to participate on the Constitution and By-Laws Committee, which proved to be quite a learning experience.  It helped me get to know some other state reps, Nlets as an organization, and allowed me to impart some of my experience and expertise. In addition to serving on the C&B, I was asked to serve on the Technical Operations Committee. A highlight of my time as a rep so far was finally getting to attend an Annual Business Meeting (ABM) as a rep (vs. attending as a proxy).  I got to know many of the other state's reps while in Bismarck and made some really great connections which have already proven valuable. 
Q. What Was a Particularly Impactful Experience You Have Had Working with Nlets?
The work we completed on the C&B Committee was particularly impactful. It was work that needed to be done and was asked for by the Council at the 2021 ABM. It was really gratifying to see the work the C&B Committee completed go on to be passed by the Council at the 2022 ABM in Bismarck.  Though, there's a lot more that needs to be done.
Q. Can You Share One Case Study/Example Where Nlets Was Used in Your Agency/State?
A. One of our local law enforcement agencies is currently working a case where people are stealing from night rent/drop boxes at apartment complexes, low-income housing, and trailer parks throughout the state. So far around $20,000 has been stolen. Through the use of search warrants, detectives were able to obtain banking information and surveillance/ATM video. Through ALPR hits, detectives were able to recognize a pattern of a particular out of state vehicles located in the area. Through several Nlets vehicle and person queries, detectives were able to locate the vehicle matching the ALPR scan and compare driver's license photos to the surveillance/ATM video to ultimately to identify and verify their suspects.  Not only was the information provided by Nlets extremely helpful in this case, the fact that the states involved are providing information in the XML format made the information received much more usable.
Q. What is One Word You Would Use to Describe Nlets and Why?
A. Helpful. Whether it's the information Nlets makes available through a message key, to RAND searches, to the staff, Nlets bends over backwards to help in any way they can.