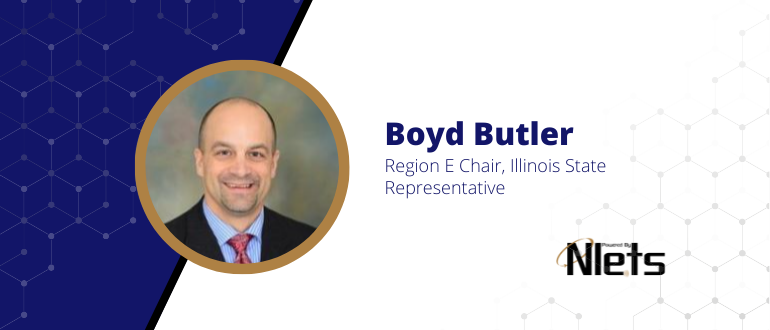 Region E Chair Spotlight - Boyd Butler
May 12, 2022
Welcome to the 11th edition of the Nlets Representative Spotlight, where we highlight the incredible work that Nlets Representatives are doing.
Today, meet Boyd Butler, Bureau Chief of the Program Administrative Bureau (PAB) of the Division of Justice Services at the Illinois State Police. Boyd serves as the Region E Chair, and Illinois Nlets Representative. Butler has been an Nlets Representative since 2017. As part of his day-to-day work at the PAB, he oversees the systems that provide criminal justice information to Illinois as well as all other states.
Q. How Would You Describe Your Role as an Nlets Representative to Someone Who Did Not Know What It Involves?
A. My role as an Nlets representative is to participate in national information sharing initiatives impacting law enforcement and criminal justice nationally. I educate Illinois users of Nlets services and promote their use. 
Q. What Was a Particularly Impactful Experience You Have Had Working with Nlets?
A. Illinois cut over to a brand-new state message switch mid-year 2021 and the Nlets staff were remarkably amenable in assisting to assure Illinois data sources remained available during and after cutover. 
Q. What Was One Case Study Where Nlets Was Used in Your Agency/State?
A. One example is the availability of driver images from other states via Nlets.  Our Firearms Services Bureau uses that functionality daily in their efforts.
Q. What is One Word You Would Use to Describe Nlets and Why? 
A. Critical.  Nlets makes information available from other states that directly and positively impacts officer and public safety across the nation reliably, securely, and quickly.