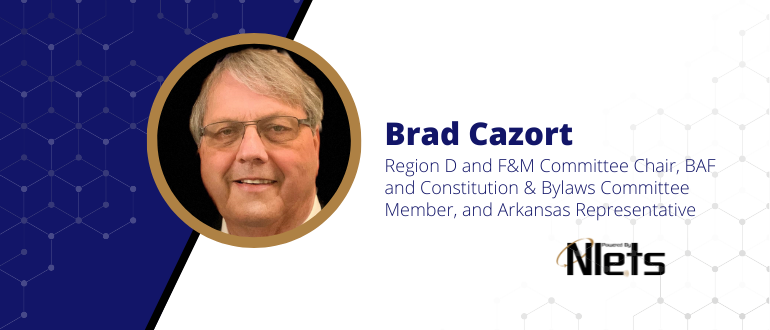 Region D Chair Spotlight - Brad Cazort
April 7, 2022
Welcome to the 11th edition of the Nlets Representative Spotlight, where we highlight the incredible work that Nlets Representatives are doing.
Today, meet Brad Cazort, Director of the Arkansas Crime Information Center and the Nlets Region D Chair, Finance & Management (F&M) Committee Chair, Brodie Assistance Fund (BAF) Committee member, Constitution and Bylaws Committee member, and Arkansas Nlets Representative. Cazort has been an Nlets Representative for over six years. In his day-to-day work, he is responsible for the overall management of the Arkansas Crime Information Center.
Q. How Would You Describe Your Role as an Nlets Representative to Someone Who Did Not Know What It Involves?
A. As an Nlets Representative I believe one of my primary duties is to explain the role of Nlets and how it is a conduit for the exchange of information to its criminal justice members and users. Additionally, I am the voice of Arkansas users, and will bring any issues and questions that arise to the Nlets staff and the other Nlets Representatives. It is imperative as an Nlets Representative to continually work to improve and enhance the system and the services it provides to the users.
Q. What Was a Particularly Impactful Experience You Have Had Working with Nlets?
A. I've had the extremely fortunate experience to serve as a Regional Representative to the Board of Directors as well as serving on the Nlets Technical Operations Committee (TOC), the BAF Committee and the F&M Committee.  The most impactful of these is to serve as the current Chair of the F&M Committee.  This committee provides an opportunity to assist in the fundamental operations of Nlets and working to ensure its continued viability and success.
Q. What Was One Case Study Where Nlets Was Used in Your Agency/State?
A. The Arkansas Highway Police (AHP) is a division of the Arkansas Department of Transportation. They are responsible for oversight of the trucking industry using the highways and interstates in Arkansas. Their communications operators are responsible for radio dispatching. They receive and monitor radio traffic throughout the state. One of their radio systems is the Arkansas Wireless Information Network (AWIN). The communications operators have direct access to the Arkansas Crime Information Center (ACIC) when dispatching for AHP. Many of those whom AHP encounter are out-of-state truck drivers. AHP is a nationally recognized leader in the fields of drug interdiction, motor carrier safety, and hazardous materials enforcements and credits its recognition, in part, to Nlets by providing access to out-of-state driver license information, medical certifications, vehicle registration, warrants, and sexual offender information. AHP can help keep Arkansas roadways safe through this cooperation between the states. This quick access of up-to-date information is imperative for AHP operations.
Q. What is One Word You Would Use to Describe Nlets and Why? 
A. Collaborative. Nlets is an organization centered around sharing. They are concerned not just with sharing data to criminal justice agencies around the nation but also in sharing information and assistance to Nlets representatives as well.