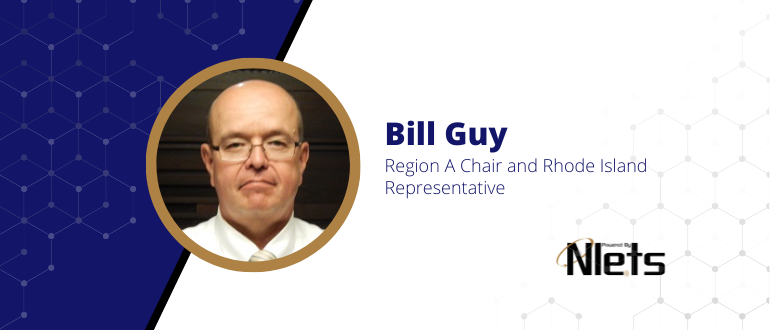 Region A Chair Spotlight - Bill Guy
November 22, 2021
Welcome to the eighth edition of the Nlets Representative Spotlight, where we highlight the incredible work that Nlets Representatives are doing.
Today, meet Bill Guy, Director of Telecommunications at the Rhode Island State Police, and Region A's Chair. Guy has been an Nlets Representative for 12 years.
Q. How Would You Describe Your Role as an Nlets Representative to Someone Who Did Not Know What It Was?
A. While I am designated to represent the State of Rhode Island, an Nlets Representative's primary role is to work in collaboration with other Nets Representatives and the talented staff at Nlets to provide our criminal justice users with data products that will enhance public safety and officer safety nationwide.  Participating in this collective effort to enhance public safety is a very rewarding experience.
Q. What Was a Particularly Impactful Experience You Have Had Working with Nlets?
A. One of the most impactful enhancements we have delivered to our criminal justice users is the expansion of access to images within our message formats.  Both Targeted Interstate Photo Sharing (TIPS) and Driver's License Photos impact public safety and officer safety every day. These enhancements would not have been possible without the collective efforts of all Nlets Representatives, the Nlets staff and the Nlets Brodie Assistance Fund.
Q. Can You Share One Success Story Where Nlets Was Used in Your Agency/State?
A. Nlets success stories happen every day in every state and territory.  Each time critical data is delivered to a user, public safety is impacted.  As I type this response, officers are on the street here in Rhode Island requesting and receiving Nlets data and each delivery of critical data is a success story.
Q. What is One Word You Would Use to Describe Nlets and Why?
A. The one word would be "collaboration".  The success of Nlets would not be possible without the collective work of all Nlets Representatives, the contributions of the Nlets staff, the support of the states and territories, the support of our federal partners, and our relationship with our private sector partners.