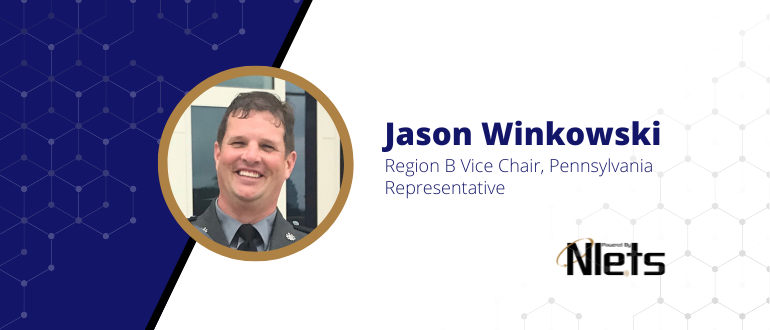 Region B Vice Chair Spotlight
October 12, 2022
Welcome to the 16th edition of the Nlets Representative Spotlight, where we highlight the incredible work that Nlets Representatives are doing. 
Today, meet Lieutenant Jason Winkowski, Commander of the Commonwealth Law Enforcement Assistance Network (CLEAN) at the Pennsylvania State Police and the Nlets Region B Vice Chair. Winkowski has been an Nlets Representative for 1.5 years but has served as an Nlets proxy numerous times over the years. 
As part of his day-to-day work, he is responsible for managing and maintaining all aspects of the Commonwealth Law Enforcement Assistance Network (CLEAN), to include the CLEAN Regulations, Pennsylvania's compliance with the FBI Criminal Justice Information Services (CJIS) Division rules and regulations, and more. 
Q. How Would You Describe Your Role as an Nlets Representative to Someone Who Did Not Know What It Involves? 
A. I would say that I serve as Pennsylvania's voice and speak to how we connect and process criminal justice information deriving from and responding to other states' requests for a multitude of transaction types. I would say that an Nlets Representative serves as the voice for the state that they represent in a national platform. 
Some of the best parts of being the Nlets Representative are being involved with other states as well as the different agencies in Pennsylvania to help them solve issues for those in the criminal justice community.  
One of the most difficult parts is managing the many moving parts involved in making technology work and trying to make it seamless for the end users who rely on the information.   
Q. What Was a Particularly Impactful Experience You Have Had Working with Nlets? 
A. Our state developed an automated warrant process to ensure that wanted persons were entered into CLEAN/NCIC once the warrant was issued from the courts. This process allowed agencies to receive the entry automatically and assisted with entry. It not only ensured an entry was made in a timely manner, but also ensured that when a warrant was cleared or cancelled the record was removed. As part of this initiative, Pennsylvania won the first ever Innovators Award from Nlets and I was honored to have attended the STARS conference in 2017 to accept the award for our state.     
Q. What is One Word You Would Use to Describe Nlets and Why? 
A. TEAM! Nlets is one very large team, merging many aspects of the criminal justice community and helping those that support it work together for one common goal.