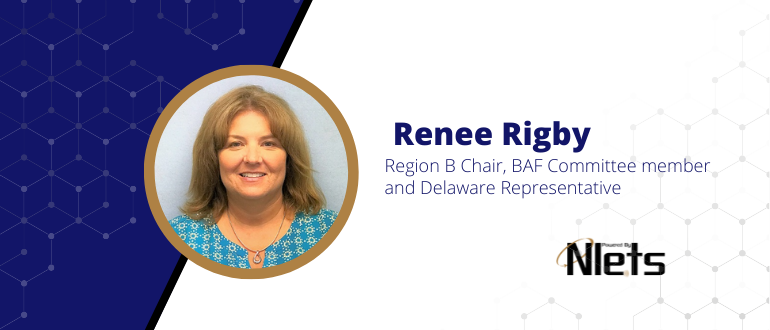 Region B Chair Spotlight - Renee Rigby
February 8, 2022
Welcome to the ninth edition of the Nlets Representative Spotlight, where we highlight the incredible work that Nlets Representatives are doing. 
Today, meet Renee Rigby, CJIS Systems Officer at the Delaware State Police and the Nlets Region B Chairperson. Ms. Rigby has been an Nlets Representative for five years and has been on the Board of Directors since 2020. 
Q. How Would You Describe Your Role as an Nlets Representative to Someone Who Did Not Know What It Involves? 
A. As the Delaware Nlets Representative, I would start by explaining the importance of Nlets' network and how it allows the states to share vehicle and license information nationwide. We often have users that run queries against our state system only and we continually must remind them that the only way to get complete records is to run the query through Nlets. Additionally, my role as an Nlets Representative allows me to be the voice for our state, and to be able to share any concerns that our users may have and discuss them with other state representatives, or directly with Nlets. Some of my top priorities as a representative are to enhance what can be done through the network, to provide better services to users and to enhance public safety.  
Q. What Was a Particularly Impactful Experience You Have Had Working with Nlets? 
A. My first 23 years of working for the Delaware State Police was with our State Bureau of Identification, where I worked with NIBRS, CHRI, III, fingerprints, etc. At that time, I had very limited access to Nlets.  After being selected as the CSO for Delaware, I became fully aware of everything that Nlets could provide to the users and shortly after became the Nlets Representative. After attending my first Nlets Annual Business meeting, I realized there was so much more to Nlets than just running transactions and getting a response. I have learned and I am still learning about the organization and what they provide every time we meet.  
Q. What is One Word You Would Use to Describe Nlets and Why? 
My one word would be sharing. It is incredible to think about the amount of information that is shared through Nlets' network and to do so at such a rapid speed is amazing. Their commitment to speed and breadth of data says a lot about the organization and the qualified staff that are employed there that keep everything up and running.