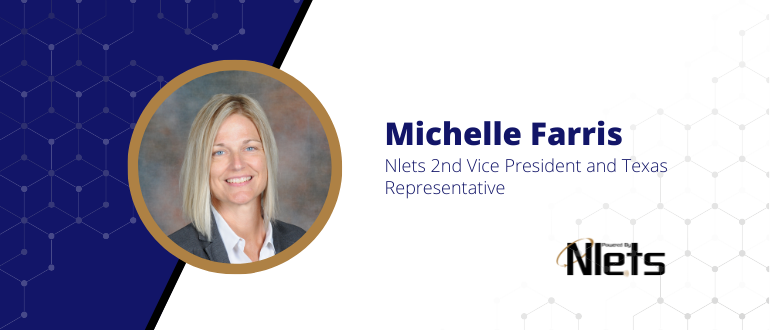 2nd Vice President Spotlight - Michelle Farris
November 8, 2021
Welcome to the sixth edition of the Nlets Representative Spotlight, where we highlight the incredible work that Nlets Representatives are doing. 
Today, meet Michelle Farris, Chief of the Crime Records Division at the Texas Department of Public Safety. She has been an Nlets Representative for almost ten years. 
Q. How Would You Describe Your Role as an Nlets Representative to Someone Who Didn't Know What Nlets Was? 
A. As an Nlets Representative, I am primarily responsible for representing the state of Texas within a national forum.  It is also my responsibility to promote and provide training on existing Nlets services to the state's user community. Additionally, I work to promote Nlets' information sharing goals and objectives to ensure agencies and their officers have the critical information they need.
Q. What Are Some Highlights of Being an Nlets Representative and What Are Some of the Challenges? 
A. Some of the highlights of serving as an Nlets Rep are the opportunities to network and speak with other state representatives to further information sharing objectives and to solve problems. The most difficult aspect of the role is understanding all the functionality the Nlets network provides to the criminal justice community. Nlets Representatives are well versed in their individual states, so becoming the Nlets Representative required me to look beyond the borders of Texas and outwards at the information sharing needs across the nation. 
Q: What Was a Particularly Impactful Experience You've Had Working with Nlets? 
The most impactful experience I've had was when I was asked to serve on the Nlets Finance and Management Committee.  While this committee takes on subject matter that most would not find interesting, it does provide insight into the day-to-day operations of Nlets at the most fundamental level.  Gaining this fundamental understanding of the organization led me to want to assume additional leadership roles within the organization. The success of Nlets is derived directly from its membership and the level of effort those members invest in the organization to ensure its future.   
Q. Can You Share One Success Story Where Nlets Was Used in Your Agency/State? 
A. It is difficult to provide only one success story.  Texas runs hundreds of transactions every day.  Thanks to the information Nlets provides to criminal justice and law enforcement users, there are dozens of instances where the use of information derived from the Nlets network was integral to a successful outcome.  
Q. What is One Word You Would Use to Describe Nlets and Why? 
A. I would say 'network'. A network is a fabric or structure that crosses at regular intervals and is knotted or secured at the crossings. Nlets is a network of people, comprised of Nlets staff, state Representatives, and strategic partners, all working together to provide a strong and secure information sharing network.